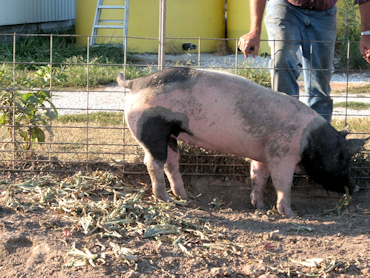 Ordering is Easy!!
First you contact us to let us know what you are interested in. We will then schedule in your order, (Keep in mind we have hogs available year round, but cattle only in late summer into fall.)
On the appointment date, we will deliver your hog or cow to the the Locker Plant. There it will be processed according to your specifications. In a couple of weeks your smoked pork chops, sausage, etc. or T-bone steaks, roasts and hamburger, etc. will be ready for pick-up.
Cattle will become available starting in the summer until late fall. Hogs are available year round.
We currently deliver to Napoleon Locker Plant or Westport Locker. Please let us know as soon as possible of your interest so we can get an appointment scheduled.