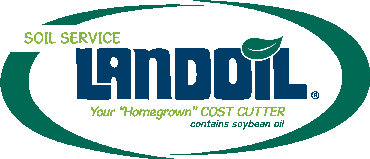 Highest Quality Soybean Oil
Albert Armand also has a SO-IL Service Landoil™ dealership.
Landoil is a combination of pure food grade soybean oil with emulsifiers and stabilizers. This combination is blended to serve as a carrier, drift reduction agent, surfactant, penetrants and spreader/sticker. Landoil is a "Homegrown Product" and is gentle to the crop. Landoil is a nonionic surfactant and should be used as a substitute for MSO, crop oil and any other petroleum based oil product when applied through conventional sprayers.
Get the most benefit out of your pesticides with Landoil®, a premium product used as a replacement for crop oil and non-ionic surfactants. We have done extensive research to ensure we provide the optimum adjuvant system to maximize the effectiveness of your chemicals.
Support local growers. Landoil is a soybean-oil-based spray surfactant, made from soybeans grown right here in the Midwest—not from petroleum from the Middle East.
Spread and stick better. Spray with Landoil and you'll find your chemicals not only cover the surface you are spraying, but also stay there until the chemicals penetrate the plants. Landoil is a tremendous spreader and sticker.
Penetrate better. Landoil's excellent penetration and translocation capabilities mean that you'll hit your target, and, as with glyphosate, move the chemicals throughout the plant.
Limit drift. Landoil's drift-control properties mean you will get more of your pesticide on target, saving you both time and money.
Rain fast. Landoil helps chemicals stick to the leaf, often within 20 minutes, so they are less susceptible to washing off.
Use with SOIL BOOST PLUS®. SOIL BOOST PLUS ensures optimal performance of chemicals in your pesticide.