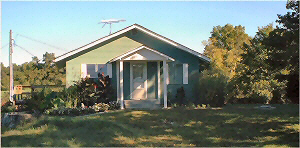 ABOUT THE HOME
Grandma Pearcy's Hilltop Rental Home is a quaint home located on 120 acres of rolling pasture and crop land. The home has been furnished with enough room to sleep 7 if needed. The refrigerator is stocked with farm fresh eggs and homegrown sausage. The kitchen can also be stocked with homegrown meat and produce.
Guests are invited to enjoy the simple pleasures of this country retreat such as strolling along maintained paths to the Wyaloosing creek where wildlife is abundant. Not only are there many deer trails, but other wildlife such as beaver, rabbit and numerous birds. The Armand's have even seen a blue heron fishing in this creek.
Around the house a fire-pit is available for roasting hot dogs over an open fire. If a grill is more your style perhaps some porkburgers on the gas grill. After your meal you might even enjoy a round of horse shoes.
If you want to go for a drive nearby, Westport has a historic Covered Bridge, Dairy Queen, park, grocery, and a few restaurants. Nearby North Vernon, Greensburg and Columbus also offer a variety of attractions for any age.
Your stay at Grandma's is sure to create many good memories. For some it will be a reminder of the 'good ole days" spent at Grandma's farm.